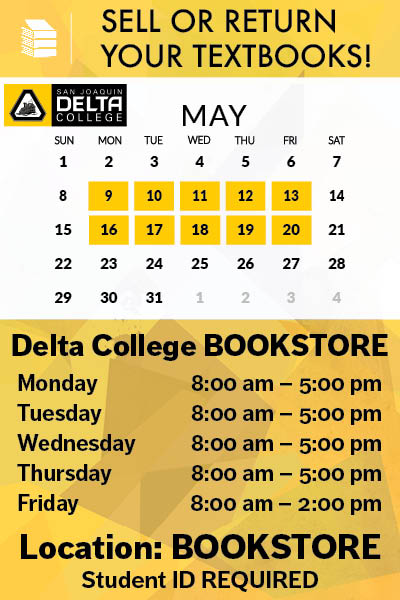 Buyback & Rental Return Information
Buyback Policy
The Bookstore's commitment to students is to buy back as many books at the end of each semester as can possibly be resold the following term. That usually includes over 80% of our titles. During this time the Bookstore will pay up to 50% of the original purchase price on all copies needed by us for the following semester - even for copies originally purchased used and those purchased elsewhere! Following are some reasons why the Bookstore may not buy back certain titles:
Publishers change books
Faculty change books
The Bookstore is overstocked on a title
Discontinued books may still have a "wholesale" value, if the edition is current. These books are purchased by us for a USED BOOK company that resells them to other schools. Wholesale values range from 10-30% of the original new price.
Buyback prices are subject to change without notice.
During the last week of the semester buyback is located in the Mustang Room directly across from the Bookstore. During the remainder of the semester buyback will be done inside the Bookstore.
Pricing & Demand
Students can sell books
anytime
, if there is a listed value in our wholesale catalog, but the
best price
is during
last week
of each semester.
Don't wait too long!
While we make every effort to give you the most back for your books, don't wait too long--some books have limited quantities being purchased. The condition of the book, national demand, new editions, missing pieces and overstocks can affect the resale value of your books.
Rental Return
Textbooks that are rented are due back to the bookstore no later than the last day of Finals of the current semester. If you would like to return your rental books before finals week, rental returns are accepted inside the bookstore.
If you would like to mail-in your Rental and Buyback textbook(s), please click here for the Mailing label and packing slip to include in your package. Please carefully pack your rented textbook(s). The customer is responsible for shipping costs necessary to return textbook rentals. The bookstore encourages students to send textbooks back using a trackable method, such as USPS media mail, FedEx, or UPS. Please keep your tracking number for your records.
Please include your Name and Student ID number to ensure your textbook rental return is recorded correctly. Rental returns without this information may result in rental fees.
Do NOT sell your rental book at book buyback. It is your responsibility to know which book(s) are rentals
Click the button below to check your buyback prices
Contact
Delta College Bookstore
Danner Hall
5151 Pacific Ave.
Stockton, CA 95207
(209) 954-5085
[email protected]
Regular Hours
Please make sure to visit our Store
hours page for extended hours and closures
| | |
| --- | --- |
| Monday | 7:45 am - 5:00 pm |
| Tuesday | 7:45 am - 5:00 pm |
| Wednesday | 7:45 am - 5:00 pm |
| Thursday | 7:45 am - 5:00 pm |
| Friday | 7:45 am - 2:00 pm |
| Saturday | CLOSED |
| Sunday | CLOSED |